After five years of waiting to make big changes to LA Gold in Winkler, Owner and Manager Karen Kehler's plans paid off. The grand re-opening of the new location on the corner of Roblin and Main Streets, in the former bowling alley building, took place on Wednesday.
Kehler looked back to when they opened the jewelry store in the Southland Mall after Krahn's Jewelers had closed down and the space was empty for two years.
"I said to my husband Dennis, 'You know, we should put a jewelry store in there." And he said, 'I don't know anything about jewelry.' and I said, 'Well, get somebody that does.' And here we are. We had partners in the beginning. We were in the mall since 1996."
2 by 2 porcelain tiles reflect the glow from the chandeliers, a local company, A Line Euro, designed the white cabinets (a first for them) encasing a variety of fine jewelry, all leading to the back where the Maple Leaf Diamond Boutique pulls the shopper through the bright and shiny new store.
Kehler gushed about the selection in their Maple Leaf Diamond Boutique, as well as the Elle Line, the sterling silver and the higher-end line of jewelry, but still affordable, Bronzoro.  She noted they still sell and repair watches.
A gold bow in middle of the ribbon cut for the grand re-opening signified the added touch Kehler put into planning the special day.
"We're happy to be in a new building with a fresh new look. Come and see our diamonds in a new light."
After being in the business for 27 years, Kehler opened up about why she continues to invest in the community and enjoys her work.
"I love jewelry. I do. And I love dealing with people. I can help them out. It is an emotional purchase, for most. Even for repairs, very emotional, there can be a very old piece and really rundown, but we can bring it back to new. We've made people cry. It's a good business."
Kehler said she couldn't do it without her staff who know their stuff, love people, and are friendly. People come from all over the area to make those emotional purchases. She added with a smile, people will be drawn into the bright beautiful store.
Winkler Mayor Henry Siemens took part in the celebration, with scissors in hand.
"Wow, what a beautiful facility. Karen has invested in a very significant way in the community. Again, showing confidence that this is a good place to do business. We're always excited to see that, whenever we get that. It feels good to have local businesses grow their operations, expand their operations, continue to invest with the hope, there will be a return. And when you invest as they have into this building, how beautiful, how gorgeous. Can't wait to see them do extremely well here."
Also, part of the celebration, Winkler Chamber of Commerce Executive Director Tanya Chateauneuf had this to say about the move and glittery expansion.
"I'm just so excited to be here at LA Gold, visiting their new location and I'm just excited about the opportunity this brings for them and what it means for our community, as well. It's just amazing to see Karen has invested her time and her energy into creating something so beautiful for our community."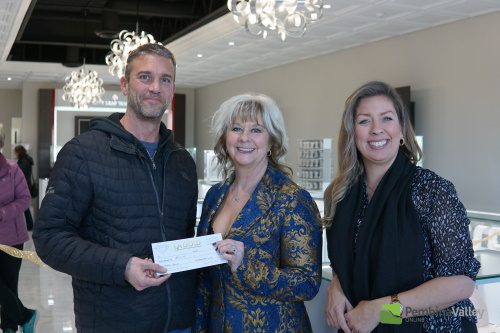 Chateauneuf added to the event by handing out gift certificates to people coming in the doors as part of five weeks of Give-aways shop local promotion, heading into the Christmas season.
"Shopping local is key. Check out what she has to offer. There's such a wide variety of beautiful items in this store. There's no reason to look anywhere other than within our community for gifts this holiday season."